People often ask me, "Why did we create 'Live the Dream'?" The true story below will tell the tale...
From the Desk of Brian Fanale
May 3rd, 2017
There I was...
Standing outside a beautiful 5-star resort in Phoenix, Arizona with ZERO money in the bank, 2 credit cards maxed out, and wondering how I was going to pay for food that weekend (luckily I brought a few granola bars in my backpack).
The year: 2005
The occasion: my first event... EVER
At the time I was playing bass in a touring band that I loved, and I was a bartender at Ruby Tuesday's. To say I was 'struggling' financially would be an understatement.
On my day off, I went to Google and put in this exact phrase 'make more money.'
It really wasn't about the 'money' for me though...
I just knew I wanted something more. I wanted to do something BIG. I wanted to help people and live a life without limits, and I had no idea how I was going to get there...
I can't recall exactly why 'make more money' was the term I decided to put into google...
But when I did, a tiny little Google ad came up on the right hand side (funny, before this google search I had never even noticed the Google Pay-Per-Click ads on the right-hand side... I guess when the student is ready, the teacher appears)...
And this is the EXACT ad in 2005 that pierced my heart, and changed my life forever: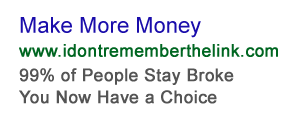 I clicked the ad, which went to a terrible looking 'capture page' that was probably 20 pages long. I entered my e-mail address and got invited to a live teleconference presentation at 1 PM EST that day.
I joined the presentation, was blown away by the potential, and got started immediately.
That was March 25, 2005...
Fast-forward 6 weeks into my first 'MLM' (I didn't even know what this stood for), and my upline who I had never met before called me and said...
"IF YOU DON'T MAKE IT TO THIS EVENT, YOU ARE GOING TO BE A STATISTIC, AND YOU WILL FAIL"
He was making $50,000+ per month... I was making less than $2,000... I decided that he knew more than me.
I got VERY uncomfortable, maxed out the remainder of 2 additional credit cards, and decided to TAKE ACTION!
So here I am in Phoenix, Arizona with no clue what to expect, as broke as can be.
I know NOBODY, I'm brand spankin' new to the industry, and I'm thousands of miles from home because my upline told me to GET TO THIS EVENT.
I was scared. I was excited. And 2 things happened at that 'Super-Saturday' event...
1) THIS INDUSTRY BECAME REAL
2) I TRANSFORMED INTO A DIFFERENT PERSON
At that event I shook hands with the leaders in that company: the same leaders whose CD's I would fall asleep to as they preached about leadership and mindset.
I thought they were Super Heroes or Greek Gods born with something special that I didn't possess...
I WAS DEAD WRONG
I saw with my own eyes that they were real human beings just like you and me...
AND IN THAT MOMENT SOMETHING INSIDE ME WOKE UP.
I MADE A DECISION. AND I NEVER LOOKED BACK
That night I remember sneaking away from the event to breathe for a minute, and to process what was happening to me.
I climbed to the roof of the restaurant on the property to watch the sun set in the desert (I had never traveled before, nor seen the desert... I never had the money).
And I can feel the hair on my neck start to stand up as I write this sentence...
IN THAT MOMENT, AS I WATCHED THE SUN SET FAR IN THE DISTANCE ACROSS THE DESERT SAND, I KNEW THAT MY LIFE WOULD NEVER BE THE SAME... AND I BURST INTO TEARS OF GRATITUDE LIKE A NEW-BORN BABY.
The true story above is why I am hosting this event.
This is why MLSP is committed to hosting a life-changing annual EXPERIENCE every single year. This is why we're having 2 VIP parties, and 1 VIP ELITE party. This is why I've invited some of my closest marketing buddies and world class marketers to join me (and you) for LTD8...
Just like I had my revelation at my first live event,
I WANT TO GIVE YOU THE EXPERIENCE THAT CHANGES YOUR LIFE FOREVER
If I could give you this gift and experience on a webinar, I would... but I can't.
This one has to be IN PERSON at an event. NO EXCEPTIONS.
You can't read about this one, or watch it on a webinar, or get it from a video...
YOU HAVE TO EXPERIENCE IT AT 'LIVE THE DREAM' IF YOU WANT TO CHANGE YOUR LIFE.
And that is ONLY reason we are coming together for Live the Dream... YOU!
If you are ready for this type of breakthrough, transformational experience of a lifetime, come to Austin for Live the Dream 8...
And this community will change your life.

P.S. - I can only show you the door my friend... YOU will have to be the one to walk through it. A real LIVE event just like 'Live the Dream' is what flipped a switch deep in my core, and my life would never be the same. The decision I made to get to that event back in 2005 when I was dead broke would go on to change the course of an entire industry... what do you think could happen when YOU decide to JOIN US FOR 'LIVE THE DREAM 8?'
*Once we hit a specific number of ticket sales, the price will increase